If you are interested in Reiki training please contact me.

I completed my Reiki I and Reiki II training in 1990 with Mari Hall. At that time I had no intention of teaching Reiki so stayed at that level. In 2000 I realised that I wanted to teach Reiki and was ready to become a Reiki Master/Teacher.
In 2001 I decided to refresh my memory of Reiki I and II training and then I started teaching Reiki. It is a fabulous experience for me as I learn so much from the people who come to me for training. It is a great privilege to be able to attune people to Reiki. I have completed several Reiki training courses in Edinburgh over the years.
I am an approved Reiki Master Teacher with the Complementary Therapy Association, Embody. I teach Reiki I and Reiki II classes in Edinburgh with 2 days of learning and practising for both of those stages. I can also teach advanced Reiki and Reiki Master/Teacher in Edinburgh and Scotland.
Becoming a Reiki practitioner and later a Reiki Master has been quite an experience for me in that my aim is to follow the below principles, written by Dr Usui, to the best of my ability.
Reiki Principles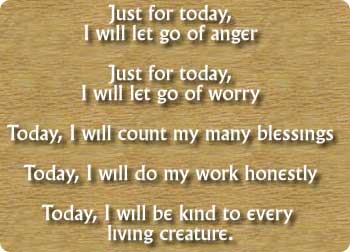 For further information about dates of courses and content of the training please contact me.
I am going to be having a Reiki I and Reiki II training shortly so please get in touch if you are interested.